https://www.cbdpure.com/affiliate/ads/728x90/728x90-1.jpg
Synthetic cannabis and real cannabis couldn't be more different. Recently, officials at the Illinois Department of Public Health released a statement about the increasing danger of synthetic marijuana.
Kieth Kruskall with the Drug Enforcement Administration, holds up a package of synthetic cannabis at a news conference with other law enforcement heads where it was announced that the Federal and New York City authorities have broken up a group that trafficked in synthetic marijuana, known as K2 on September 16, 2015 in New York City. The drug, which has become widely used among New York CityÕs homeless population, is both cheap and potentially life threatening. Thousands of people have been brought to the city's hospitals over the last year due to the use of the drug. (Photo by Spencer Platt/Getty Images)
Poisoning cases caused by synthetic cannabis have emerged once again in Illinois, this time in Winnebago County. In the recent weeks, a handful of Illinois residents have been hospitalized due to synthetic cannabis according to a report from Robert McCoppin via the Chicago Tribune.
Similar poisoning cases have been reported in the state since March, hospitalizing as many as 164 people and causing the death of four in Cook and Peoria counties.
State health authorities are warning residents to stay away from synthetic cannabinoids, though authorities aren't clear if the most recent cases are related to the previous batch which was found to contain as brodifacoum – a type of rat poison.
"Through continued monitoring, we've recently learned of new cases of individuals experiencing severe bleeding after using synthetic cannabinoids. We don't know if this is a new batch of drugs or product that has been held back from when we began seeing cases at the end of March, but it reiterates the importance of staying away from synthetic cannabinoids," read a statement from the Illinois Department of Public Health Director Nirav Shah.
In May, more than 50 people were hospitalized in Brooklyn as a result spice which also appeared to contain rat poison.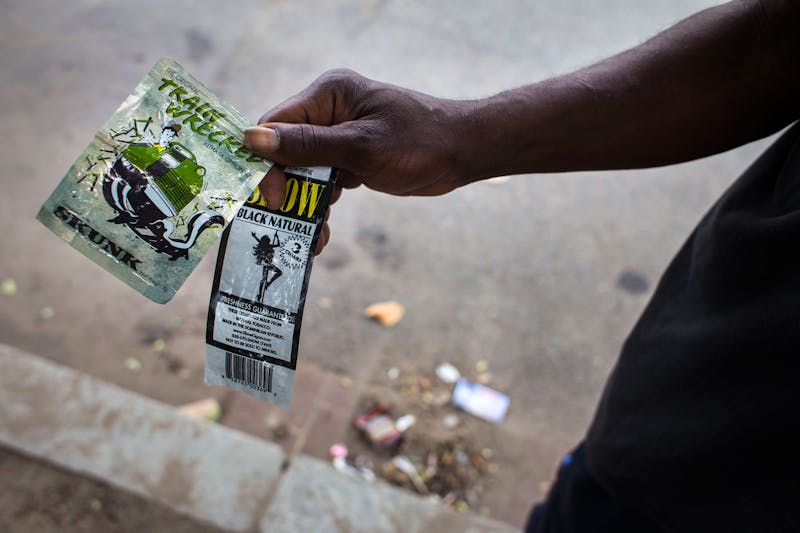 Synthetic cannabis, also known as K2 or Spice, has very little in common with real cannabis.
Instead, it is a man-made substance that can contain a cocktail of chemicals sprayed onto dried leaves to mimic the effects of THC.
That ambiguity in its chemical ingredients means consumers can't be sure what they are smoking. This often results in hospitalization for symptoms which include blood in the urine, coughing up blood, and severe nosebleeds.
The Illinois legislature recently passed legislation to ban all forms of synthetic cannabis in an attempt to account for its changing ingredients. That bill is awaiting approval from Governor Bruce Rauner.
In previous years, lawmakers instituted bans on specific formulas for spice, but dealers and manufacturers simply changed up their recipes to get around the laws. According to the Department of Justice, from 2009 to 2015 synthetic cannabis recipes jumped from just two to 80 different varieties.
The new law is a 'catch all' law would see those manufacturing and dealing in synthetic cannabis jailed for two to five years with fines as high as $25,000 while simple possession could carry a penalty of a year in prison.